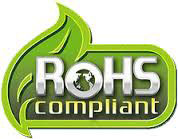 1. Declaration of compliance for REACH
2. Declaration of compliance for RoHS



January 2018



RoHS2
In 2003, the European Parliament and the Council of the European Union passed the "Restriction of Hazardous Substances" Directive. The RoHS Directive was recast July 2011 as RoHS2 Directive 2011/65/EU. This Directive restricts the use of the following six specific substances in electrical and electronic equipment sold in the EU beginning January 1, 2013:


Lead
Mercury
Cadmium
Chromium VI
Polybrominated biphenyls (PB)
Polybrominated diphenyl ethers (PBDE)

We hereby certify that products supplied by CnC Tech, LLC are RoHS2 compliant. To comply we are ensuring that our parts meet the Standard of less than "0.1% by weight per homogeneous material for lead, hexavalent chromium, mercury, PBB and PBDE and 0.01% by weight and per homogeneous material for cadmium".

All members of our supply chain, raw materials or finished parts have to provide RoHS2 material declarations, which will also apply to new supply chain members by providing signed declaration.

REACH: We hereby certify and confirm that none of the products that CnC Tech, LLC supply to customers contains any substance from the candidate list of Substances of Very High Concern for authorization (SVHC), as specified under the Candidate list published by ECHA (European Chemical Agency).

For CnC Tech, LLC we declare and warrant REACH and RoHS of these parts.